Teaching
I've always had the innate desire to be a teacher. Whether I'm presenting information, encouraging interaction, or listening with an empathetic ear, I intend to improve the lives of others as they make their way in the world. It is my passion.
I was very fortunate to have had role models who made a positive impact during my formative years. They have solidified my desire for making the world a better place.
Watch on YouTube
Rosemarie - In Her Own Words
The Ohio State University Leadership Center
View Transcript
Video Summary:
Rosemarie Rossetti discusses her experience of leaving teaching to start her own business, sharing key leadership lessons such as delegation and self-awareness.
She highlights the importance of a good relationship with a business partner or spouse and offers advice on managing a business and hiring staff.
Rossetti shares her story of persistence and optimism after a bike accident left her paralyzed and discusses her advocacy work for accessibility and Universal Design in work, public and home environments.
Compassion
Living with my older brother Richard, who had a developmental disability, prepared me to be an advocate for people with disabilities. I frequently attended events with him and was introduced to many of his friends who also had intellectual as well as physical challenges.
It's natural to develop empathy in that environment. Empathy has grown to compassion. More than understanding – the desire to help.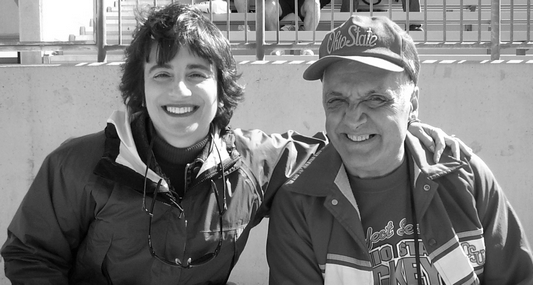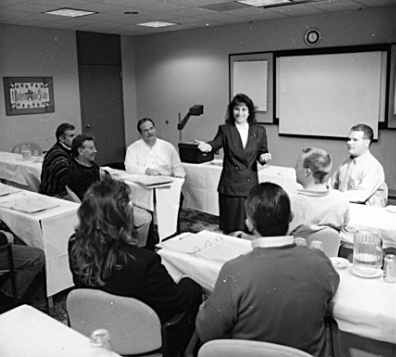 Stepping Stones
At The Ohio State University as an undergraduate, I majored in horticulture and agricultural education. After teaching horticulture at a vocational center for three years, I returned to OSU to complete my M.S. and Ph.D. in agricultural education. Later OSU welcomed me back to join the faculty where I taught courses in teaching methods and communication for eleven years.
Eager to expand my horizons, I founded my presentation skills and train-the-trainer business, Rossetti Enterprises Inc. in January 1997, focused on the corporate market.
I Took My Last Step
Life changed in an instant on June 13, 1998. While riding my bicycle with my husband Mark Leder, a 7,000-pound tree came crashing down on top of me, leaving me paralyzed from the waist down. The experience was surreal! My life was drastically altered.
My business was put on a long pause. This was the time for me to decide what I would do to recover. My quest was to take back my life. What got me through was the love and support from Mark, family, and friends boosted by my positive attitude, hard work, and perseverance.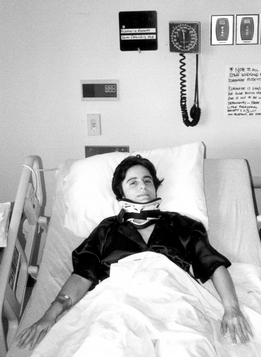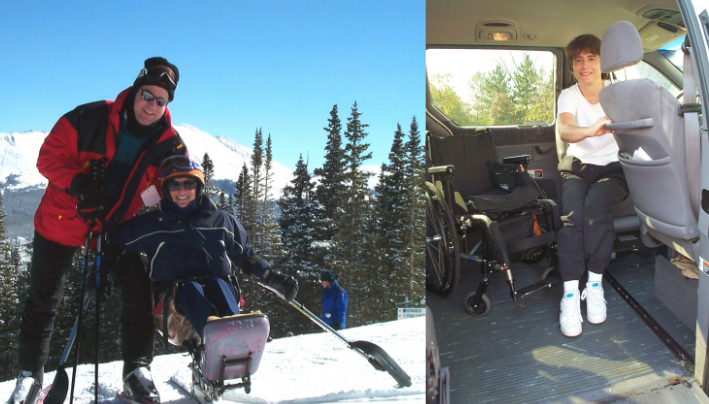 Adapting Through Change
There were many pivotal points in my recovery. The most influential turning point came after reading Man's Search for Meaning by Viktor Frankl. It was then that I realized the meaning of life was rooted in a mutual love of family and friends.
At the precipice of reinvention, I had to discover how to function with my limitations due to the spinal cord injury. Among the things I had to learn to do differently was to drive a van with hand controls, ride a three-wheeled recumbent bicycle, ski using a monoski, play tennis in a wheelchair, and swim laps using mostly my arms. I learned how to maneuver in the world from my wheelchair and charted a new path.
Rolling Forward
While at the rehabilitation hospital, friends encouraged me to keep an audio journal each day to record what I was experiencing and thinking. They also recommended that I start writing and speaking about the wisdom I was attaining. As I lay in bed thinking about my future, I focused on how I could make a significant positive difference in the lives of others.
Eventually, I started sharing what I was learning. My keynote speeches and in-depth articles took on the themes of adapting, thriving, resilience, coping with change, and dealing with adversity. I wrote and published the book Take Back Your Life! in 2003 which revealed my "5 Lessons to Live By."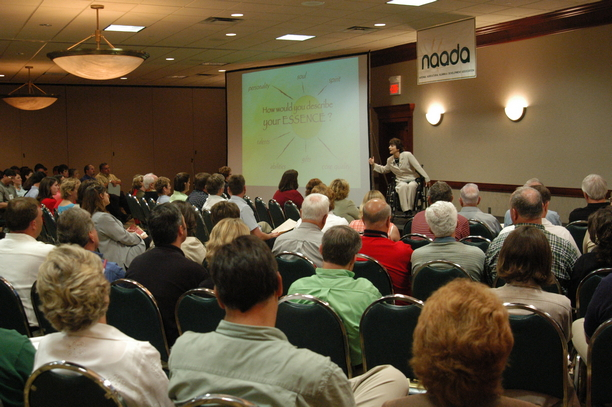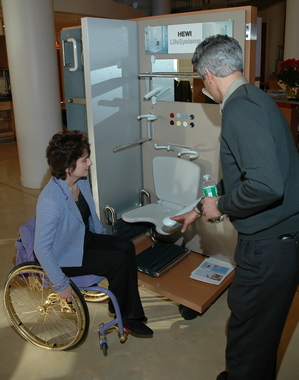 Foundation for a New Direction
From the time of my injury, it was apparent the home Mark and I had lived in since our 1995 wedding was not conducive to life in a wheelchair. Consequently, in 2003, we contemplated moving to a home that would be accessible.
After a fruitless investigation of the real estate market, we started researching what features an accessible home needed. We gathered stacks of books, articles and floor plans, then interviewed people in the know. We hired an architect in September 2004 to draw the plans for our new home. Little did we suspect what a HUGE project we were about to undertake!
A National Model Home that Supports and Inspires
In January 2005, eight people in our mastermind group gave Mark and me the idea and inspiration to build a national demonstration home and garden. They recommended it be accessible, sustainable, open to the public, and display the latest technology. They suggested we also invite corporate contributors and that I speak and write about the entire experience. That was one BIG idea!
The herculean project of securing a construction site and loan, obtaining contributors, designers, and contractors, and serving as the general contractors was overwhelming for Mark and me. The construction of the home took 32 months. Our home received three universal design certifications and two green building certifications. We moved into our Universal Design Living Laboratory in May 2012. www.udll.com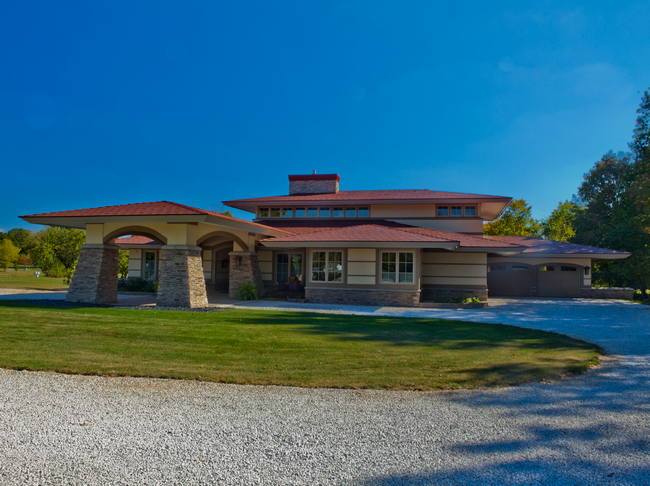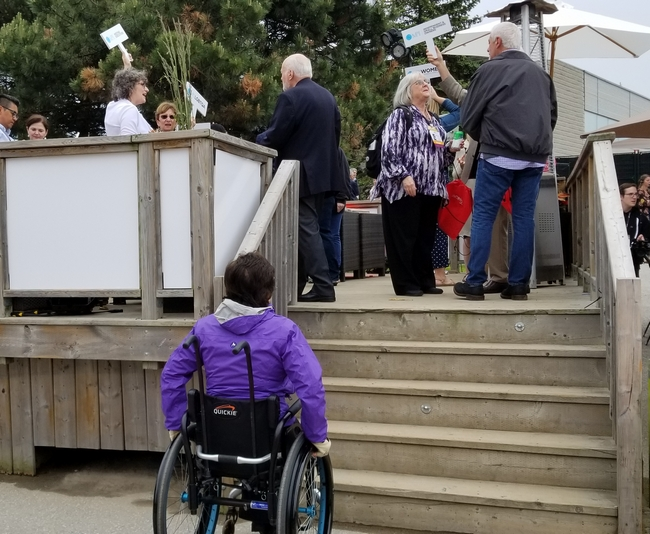 Tours, Articles, Travels, and Presentations
Throughout the construction and since moving in Mark and I have conducted tours and delivered classes to several thousand people at our home. We also teamed up to write and publish our book, the Universal Design Toolkit in 2017.
During my travels around North America, I've had a front-row seat to the accessibility (or lack thereof) of hotels, meeting and event venues, workplaces, apartments, condos, and homes. This goes beyond just the physical space. Equally important is how people who interact with those with disabilities can better serve and meet their needs.
My "dual mobility" life (abled, then disabled) gives me unique qualifications and perspective. This extensive lived experience and insight have translated to helping people and corporations more fully accommodate those with disabilities.
Living an Active Lifestyle
I enjoy cooking and eating great food that I prepare as well as food at accessible restaurants. My husband and I kayak and bike together in the spring, summer, and fall throughout Ohio. We extend business trips so we can vacation in the destinations where I am booked to speak. I also enjoy going to botanical gardens and zoos. I look for accessible venues like amusement parks and places to shop. Mark and I love to dance.
I live an active life with inactive feet.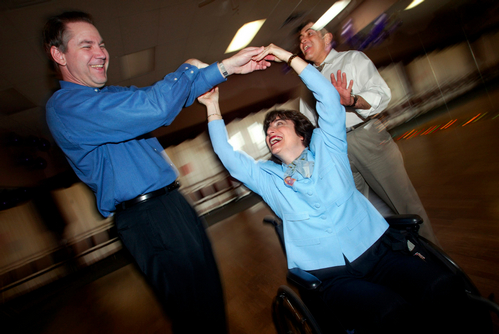 Why I do what I do
I find myself being asked the question, "Why do you do what you do?" during interviews. My answer is, "I want to make a significant positive difference in the lives of others."
Upon reflection, it becomes apparent to me that life after my injury has given me a heightened perspective of caring for and helping others.
As a person with a disability, I have had first-hand experience navigating a world that is not always accessible.
I have the talent, skills, and passion as a speaker and writer to inform and motivate others. Why not me? I can lend my voice and written words to make people aware and show possibilities that will make life easier.
Click / tap to learn more about the services and speaking topics I offer:
Certifications
Certified Disability-Owned Business Enterprise
Certified Living in Place Professional
Certified Senior Home Safety Specialist
Certified Experience Columbus Insider
Certified Tourism Ambassador
Honors
Instructor of the Year – Columbus REALTORS® – April 2016
Tourism Partner of the Year – Gahanna Convention & Visitors Bureau – March 2016
Proclamation from the Ohio Senate – December 2014
Unsung Hero Humanitarian Award – People of Distinction Foundation – October 2014
"20 Outstanding Women You Should Know in Central Ohio" – February 2008
National "Roll Model": Discovery Through Design, a New York City fashion show fundraiser for spinal cord injury research – February 2007
Ms. Wheelchair Ohio – 2004
Winter Olympic Torchbearer in Columbus Ohio – 2002
Remarkable Women Award – 2002
National Speakers Association, Ohio Chapter Award – 2002
Woman Business Entrepreneur of the Year – 1999
Women in New Growth Stages – Women Honoree Award – 1999
Franklin Park Conservatory – Recognition of Service Award - Board of Trustees – 1999
The Ohio State University College of Agriculture Teaching Award – 1995
Work Experience
Rossetti Enterprises LLC - Columbus, OH
President: January 1997 - Present
Fortuna Press - Columbus, OH
President: April 2003 - Present
Rosewell Publishing Inc. - Columbus, OH
President: October 1991 - September 2000
The Ohio State University - Columbus, OH
Taught courses in oral expression, teaching methods, instructional media, and marketing.

Instructor: October 2018 - Present
Assistant Professor: July 1990 - January 1997
Vocational Education Consultant: October 1987 - June 1990
Instructor: September 1986 - September 1987
Graduate Teaching Associate: September 1978 - June 1982

Stanford Interior Gardens, Inc. - Columbus, OH
Vice President of Sales and Marketing and Certified Interior Horticulturist: July 1978 - September 1986
Delaware County Joint Vocational School - Delaware, OH
Horticulture Instructor: August 1975 - July 1978
Board Service
National Speakers Association Foundation Board of Trustees: 2023 - present
Global Universal Design Commission, Inc.: 2018 - present
ALZ's Hope for a Cure: 2014 - 2018
National Speakers Association, Ohio Chapter: 1998 - 2003
Franklin Park Conservatory and Botanical Gardens: 1992 - 1998
Writing Experience
Rosemarie is the author, co-author or contributor to 14 books, including:
Authored and published

The Universal Design Toolkit: Time-saving ideas, resources, solutions and guidance for making homes accessible

Authored and published

Take Back Your Life!

, a collection of 20 inspirational articles from her columns.
Co-authored and published

The Healthy Indoor Plant

, a book on the care of interior plants.
Featured author in six anthology books:

Mission Possible!

;

Flowers Are Forever

;

Flowers Are For Love

;

Enabled in Words, Dancing through Life with Guts, Grace & Gusto

;

What Can I Do

.
Chapter in

The Universal Design Handbook: Second Edition
Incorporating extensive research and first-hand experience as a person who uses a wheelchair, Rosemarie has authored hundreds of articles:
From March 2006 to June 2011, her columns about accessible housing were published in Action Magazine, a publication of the United Spinal Association.
Magazine articles have been written for Ultimate Home Design, SpeciaLiving, PN Magazine, New Mobility, Action, NAHB's 50+ Housing, Columbus Monthly and Ability Magazine
Monthly columnist of nationally distributed inspirational articles from December 1999 to August 2008
Wrote for several national gardening publications.
Education
The Ohio State University Columbus, OH

Ph.D., 1982 Majored in Agricultural Education with an emphasis in teacher education
M.S., 1979 Majored in Agricultural Education with an emphasis in teacher education
B.S., 1975 Dual major in Agricultural Education and Horticulture
---
Meeting Professionals International

Inclusive Event Designer Course
The Rosemarie Rossetti Spinal Cord Injury Research Fund
Rosemarie Rossetti started this fund in July 2001 in order to advance the cure for spinal cord injuries. She has a long history with The Ohio State University and Dodd Hall. When she was injured, she spent five weeks in rehabilitation there as a patient. For the next two years, she continued her physical therapy at Dodd Hall.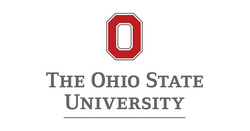 Rosemarie Rossetti Creates Spinal Cord Injury Fund
Click here to read the article published by The Ohio State University about the fund.
[pdf]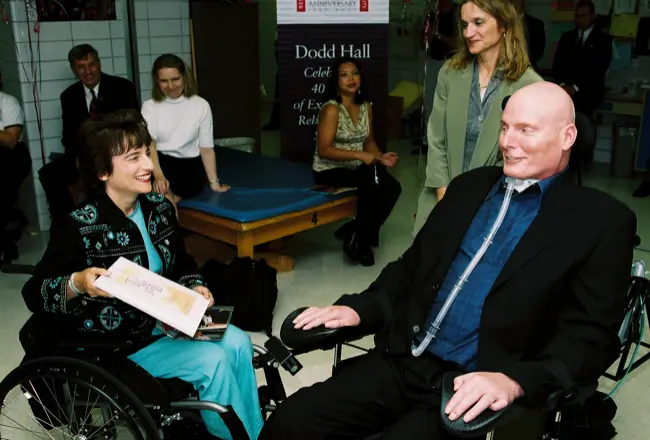 "I've been in the meetings industry for more than 30 years. I have seen so many speakers, they often times "run together" in my mind. Rarely does one resonate. I believe MOST speakers don't always teach us new things, they remind us of things we already know, and present that information in different ways to help it resonate with us in our everyday life.
But not you. I remember telling my colleagues that your information was the freshest and newest information that I have heard in many years. Genuinely informative, presented extremely well in an interesting fashion, and extremely helpful to those who do not face the challenges of all disabilities every day."
FACE2FACE Meetings & Incentives
"As the Director of Education and Training for the Society of Government Meeting Professionals, it is my responsibility to identify and hire speakers for our educational events.
In 2020, our face-to-face conference scheduled mid-May in St. Louis, MO, was canceled due to the Covid19 Pandemic. We reduced our 3 keynote speakers and 7 blocks of breakout sessions to 5 virtual events for our members.
Dr. Rosemarie Rossetti was scheduled to conduct a session in St. Louis, and graciously agreed to present this session virtually for our members. Her session 'Accommodating People with Disabilities at Meetings and Events' was well received by over 350 attendees.
Working with speakers can be a challenge. Rosemarie was always a professional and accommodating speaker. She was easy to work with before, during, and after the presentation.
Her message for planners about accommodations for individuals with disabilities should be presented at every educational session. I hope to work with Rosemarie in the future."
Society of Government Meeting Professionals