Watch on YouTube"
View the playlist by clicking the stacked lines in the upper right of the video.
What is an accessibility consultant?
An accessibility consultant is an expert in the Americans with Disabilities Act and other accessibility standards as well as universal design practices. An accessibility consultant is highly experienced in designing and evaluating the built environment including workplaces, businesses, hotels, restaurants, and residences.
What is the difference between accessible design and universal design?
Accessible design is more than just code compliance. Its major emphasis is on usability. Good accessible design includes usability and equity as a goal. Thus, the end result is the optimization of the human experience.
Universal design goes above compliance with the Americans with Disabilities Act regulations, which are viewed as minimum standards. Universal design is a framework or philosophy where the ADA deals with the technical requirements.
What is universal design?
Universal design is human-centered design, accommodating people of all sizes, ages, and abilities. A universal design approach is needed in the design and development of buildings, products, and environments to be useable by all people, to the greatest extent possible, without the need for adaptation, retrofitting, or specialized design. An environment such as a home or workplace with universal design features and products certainly makes life easier not only for those with mobility limitations but also for those who are young, old, short, or tall.
Why is accessibility needed?
Accessibility is needed in the corporate, home, and hospitality environments to level the playing field for people of all abilities. Businesses need to legally comply with the Americans With Disabilities Act to meet their standards for accessibility. The ADA standards are within the jurisdiction of the U.S. Department of Justice.
Accessibility is good for businesses to support inclusivity. When an environment is inclusive it will attract a more diverse workforce and increase business from a wider population.
How Rosemarie Rossetti performs a workplace accessibility audit.
Rossetti will perform plan reviews (and if needed a site visit) for new construction or existing properties requesting her services as an accessibility consultant. She will utilize universal design and accessible design checklists to guide her review. A report of her findings, suggestions, and recommendations will highlight the problems, solutions, and changes needed to improve the property.
What are the benefits of universal design?
Designing for inclusion and accessibility using the principles of universal design can make daily and work-life healthier, more productive, accessible, and safe. Universal Design will bring improvements in:
Efficiency
Health, Wellness, Safety
Social Participation
Inclusivity
Profitability for Businesses
Why Rosemarie is an expert accessibility consultant:
Knows from lived experience as a person who has used a wheelchair since June 1998 how the built environment can either restrict or enable independence and fulfillment.
Together with her husband, Mark Leder they led a national design team, were the general contractors, and have lived in the Universal Design Living Laboratory a top-rated universal design home and garden since May 2012.
Experienced in conducting plan reviews for workplaces and residences to increase the universal design features and products used to create such solutions.
Extensive travel to access built environments.
Delivered extensive courses and presentations in-person and virtually on the topic of accessible design and universal design.
Wrote the book, the Universal Design Toolkit.
Wrote extensively on the topic of universal and accessible design in publications.
Interviewed extensively on TV, radio, and podcasts on the topic of universal and accessible design.
Is a master communicator and consummate professional.
In the know as a leading expert on the topic of universal and accessible design.
Board Member: Global Universal Design Commission
Certified Living in Place Professional
Certified Senior Home Safety Specialist
Residential / Multifamily Plan Review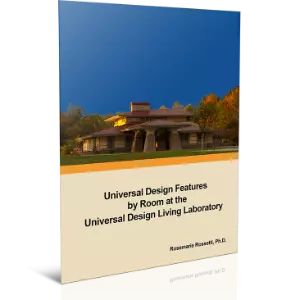 Most people are not only living longer, they're seeking a higher quality of life. Instead of settling for "assisted living," they're demanding better living: expecting convenience, accessibility, and independence in their own home -- regardless of age or ability.
Rosemarie Rossetti, Ph.D., knows from experience how a home can either restrict or enable independence and fulfillment. Paralyzed from the waist down in an accident in 1998, she was unable to find a home suited to her new life in a wheelchair.
Along with her husband, Rosemarie led a design team and built a new home which evolved into the Universal Design Living Laboratory (UDLL.com This award-winning prototype is a showcase for:
Nearly every conceivable universal design feature.
Three national universal design certifications, making it the top-rated universal design home in North America.
The prestigious silver-level LEED green certification from the U.S. Green Building Council and the gold-level National Green Building Standard certification.
Keynote Program:
A Universal Design Approach for the Built Environment
Can be focused on: workplaces, hotels, vacation rentals, homes, condos, or apartments
Talk about a game-changer: this presentation will change your view of universal design forever. Noted speaker Rosemarie Rossetti, Ph.D. understands accessibility in the built environment from the perspective of someone who uses a wheelchair.
Guided by her personal experiences, extensive travels, and keen insight, roll with her through built environments. See common problems and challenges that design and materials present to people with disabilities.
Rosemarie's engaging, energetic and interactive program will help owners, building and design professionals identify in-demand design features that can be added or changed to improve their clients or their properties.
As a nationally recognized accessible and universal design expert, Rosemarie will share her personal experiences from her wheelchair. Her knowledge of space planning and accessibility can be attributed to leading the design team for her home. The Universal Design Living Laboratory is a national demonstration home and garden and the top-rated universal design home in North America. www.udll.com
Come away with solutions that provide more accessibility, greater independence, and increased safety, comfort, and convenience. Go beyond the ADA requirements and learn about inclusive design for all.
Multimedia
The presentation is enhanced with a handout and high quality graphic slides which serve to illustrate the main points. Audiences are better able to retain the core messages by having visual illustrations.
Media / Articles
— click / tap to view

Home Designs For Life Podcast
New!
Remodeling Ideas To Increase Safety, Function, And Accessibility In The Home

Go Solo | Subkit
Leading Disability Inclusion Expert - Rossetti Enterprises

Mélange Accessible Journeys Magazine
Cruising on Wonder of the Seas

Accessible Living Magazine
Design for All

How to Move Your Mom
Universal Design: Creating a Home that Welcomes Everyone

Enabled Disabled Podcast
Dr. Rosemarie Rossetti

Hoste
More Bookings & Happier Guests with Accessibility Tweaks in Your Vacation Rental

Guardian Life
Caregiving Support

Construction Disruption
New!
Rosemarie Rossetti: Champion of Universal Design

Kitchen and Bath Business Magazine (KBB)
Creating A Sanctuary

Barron's
Aging in Place Is Gaining Popularity Among Retirees. How to Prep Your Home.

AARP Travel
How to Find the Best Hotels for Wheelchair Users

Ruh Global Impact
Creating Accessible Living Spaces

Home Healthcare News
Why COVID-19 Has Made Universal Design More Important for Seniors Home Based Care Providers

NSA Speaker Magazine
Making the Pivot to Plan B

Gizmodo
Everyone Should Be Able to Use the Public Restroom: When ADA Is Not Enough
"Section: Trapped But Not Helpless"

Forbes Magazine
The ADA On Its 30th Anniversary: Looking Back And Forward
PUSHLiving Magazine
The Gift of Inclusive Design (Podcast)

Architectural Digest® Magazine
Americans Need Home Design That Welcomes Everyone

Contractor Magazine
Universal design: going beyond ADA requirements

Remodeling Magazine
Forget-Me-Not

Professional Builder
Universal Design Goes Mainstreamin Home Building
Full Article List
A full index of over 100 articles published about Rosemarie and the Universal Design Living Laboratory are available at UDLL.com .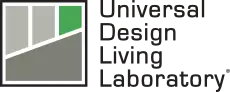 Publications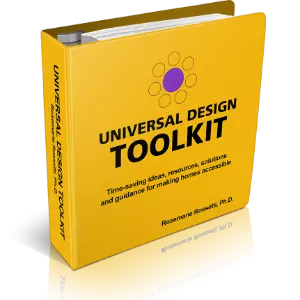 Partial Client List
American Institute of Architects - International Conference
American Institute of Architects - Ohio Valley Region
American Society of Interior Designers (ASID)
Braun Corporation
Buckeye Community Hope Foundation
Building Industry Association of Central Ohio
Columbus Home and Garden Show
Columbus Realtors®
Community Development Corporations Association of Greater Cincinnati
Construction Specifications Institute
Country Lane Seniors Community
Custom Electronic Design and Installation Association
Decorative Plumbing and Hardware Association
Design Arts Seminars
Disability Advocates of Kent County
DiYanni Custom Homes
Downsize Columbus
Environments for Aging
Epcon Communities, Inc.
GreenHome Institute
HalfMoon Education, Inc.
Hospitality Design Expo
Home Builders Association of Greater Grand Rapids
LeadingAge Conference
M+A Architects®
Michigan Realtors®
National Association of Home Builders
National Association of Realtors®
National Association of the Remodeling Industry
New Jersey Realtors®
New York Association of Realtors®
New York School of Interior Design
Ohio Community Development Corporation Association
Ohio Department of Aging
Ohio House of Representatives
Ohio Housing Finance Agency
Pennsylvania Association of Realtors®
People Working Cooperatively
Rensselaer Polytechnic Institute
The Ohio State University
Treplus Communities
Universal Design Coalition, Sarasota, FL
Universal Design Summit
Universal Design Today Conference
University of Southern California, Leonard Davis School of Gerontology
U.S. Department of Justice
Vector Solutions
Vrbo
"The AC Hotel by Marriott Pittsburgh Southpointe had the absolute honor to host Rosemarie while she spoke to us at a meeting planner seminar.
Having been in the hotel industry over half of my life now, I pretty much thought I experienced and/or knew everything.
One hour after Rosemarie's engaging program, I realized that I learned something new after almost every sentence she spoke.
If you are in the hospitality industry and want a very candid look at your hotel and the industry from a consummate professional, reach out to Rosemarie."
"I had the pleasure of meeting Rosemarie and her husband, Mark, a few weeks ago as we had asked to tour their home in order to get some ideas for Universal Design in our new building. What started as a tour ended in a business relationship as I retained them to do a thorough review of our architectural plans.
Rosemarie and Mark performed a detailed analysis of our drawings from both a work flow and Universal Design perspective. We were able to implement some immediate changes to facilitate improved work flow and access to our building. These recommendations as well as introductions to key thought leaders in our business segment leave me wishing I had met them years earlier. I can not say enough about their professionalism and willingness to be involved. Great people and new friends."