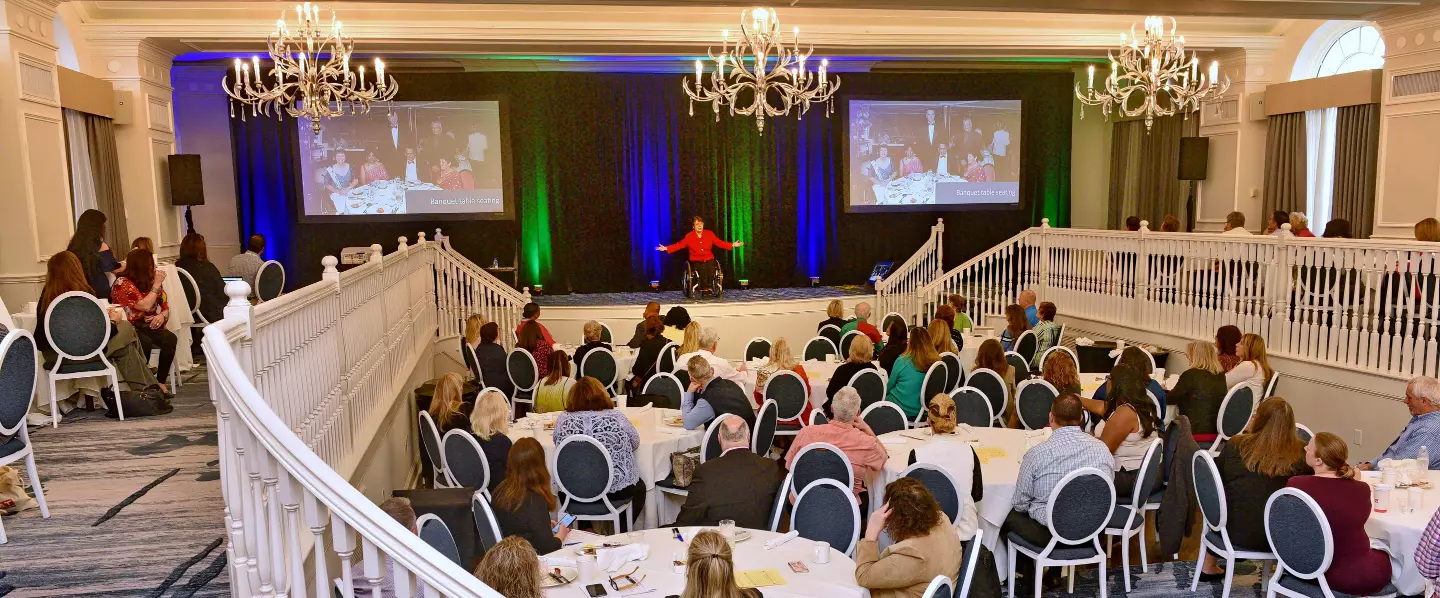 Accessibility / Disability Inclusion Consulting
Corporate Workplace
Braun Corporation
Expedia Group
Nationwide Insurance
Starbucks
Stride Mobility
Destination Marketing Organizations
Experience Columbus
Lakeside Chautauqua
Loudoun Convention & Visitors Association
Meeting Professionals
American Association of Geographers

[Multiple Engagements]

Association of American Medical Colleges
Organizations
Franklin Park Conservatory and Botanical Gardens
Residential Housing
Single Family
Habitat for Humanity International
Heckel Family
Kroeger Family
Kristine Ogden
Leasure Family
McGuire Family
Parsons Family
Pawliger Family
Van Den Branden Family
Wolman Family
Multifamily
Buckeye Community Hope Foundation
Country Lane Seniors Community
DiYanni Custom Homes
Epcon Communities
Treplus Communities
Vacation Rental
Agriculture
American Farm Bureau Federation
Aquascape Designs Inc.
Arizona Farm Bureau
Arkansas Farm Bureau
Central Ohio Water Garden Society
Cincinnati Flower Show
Cleveland Flower Show
Franklin Park Conservatory and Botanical Gardens
National Agricultural Alumni and Development Association
National No-Tillage Association
Ohio Agriculture Research Services
Ohio Farm Bureau
Ohio Florist Association
Ohio Nursery and Landscape Association
Ohio State University Extension
Ohio Young Farmers Association
Penn State Extension
Pioneer Hi-Bred International, Inc.

[Multiple Engagements]

The Scotts Company

[Multiple Engagements]

University of Kentucky LEAD
Women's Dairy Conference of Pennsylvania
Architectural and Engineering
American Institute of Architects - International Conference
American Institute of Architects - Ohio Valley Region
Construction Specifications Institute - Columbus Chapter
HalfMoon Education, Inc.
M+A Architects
Ohio Society of Professional Engineers
URS Corporation
Vector Solutions

[Multiple Engagements]

W. D. Partners
Associations and Organizations
AARP
Clear Fork Valley Foundation
Executive Women International Columbus Chapter
Grange of Franklin County
Human Resources Association of Central Ohio
International Association of Lions Club
International Facility Managers Association
Kiwanis International
Leadership Columbus Program
National Aging In Place Council
National Association of College and University Food Service
National Association of Women Business Owners
New Directions Career Center

[Multiple Engagements]

Ohio Child Conservation League
ProVisors
Rotary Club of Columbus OH
Rotary Club of Delaware OH
Rotary Club of Gahanna OH
Rotary Club of Westerville OH
Sales and Marketing Executives of Columbus
Soroptimist
TEDx Hilliard
United Way of Central Ohio
United Way, Mansfield, OH
Vistage
Women in New Growth Stages (WINGS) Organization
YMCA of Knoxville TN
Young Presidents Organization

[Multiple Engagements]

YWCA
Zonta Club of Columbus
Disability Organizations
Authenica & Adaptive Sports Connection
Amputee Coalition
Blaze Sports America
Canadian Paraplegic Association Ontario
Community Development Corporations Association of Greater Cincinnati
Dementia Action Alliance
Disability Advocates of Kent County
Easter Seals
Franklin County Board MRDD
Goodwill Industries of Sandusky
Michigan Department of Civil Rights and the Fair Housing Center of Southwest Michigan
Mid-Ohio Board for an Independent Living Environment
National Diversity Council
Ohio Association of Medical Equipment Services
Ohio Bureau of Vocational Rehabilitation Services
Ohio Department of Developmental Disabilities
Ohio Rehabilitation Counseling Association
Ohio Wheelchair Games
Starkloff Disability Institute

[Multiple Engagements]
Education
Carroll High School
Clemson University
Columbus Academy
Columbus School for Girls
Columbus State Community College
Gahanna Lincoln High School
Gahanna Middle School
High Point University
International University of Catalonia, ESARQ School of Architecture (Barcelona, Spain)
Jonathan Alder Schools
Junior PGA
National Institute of Design, Bengaluru, India
New York School of Interior Design
North Carolina Department of Public Instruction
North Carolina State University
North Central Teaching Symposium
The Ohio State Department of Agricultural Engineering
The Ohio State University Football Team
The Ohio State University Leadership Center
The Ohio State University Occupational Therapy Department
Otterbein University
Rensselaer Polytechnic Institute Lighting Research Center
Scioto Darby Elementary School
Shepherd Christian School
St. Francis DeSales High School
University of Florida
University of Miami
University of Southern California, Leonard Davis School of Gerontology
Upper Arlington High School
Upper Valley Joint Vocational School
Washington University in St. Louis
Financial and Banking
Chase Bank
Financial Planning Association
Huntington National Bank
Key Bank
McDonald Investments
Government
Central Ohio Area Agency on Aging
City of Columbus, Division of Water
Defense Supply Center Columbus
Federal Executive Association of Central Ohio
Federally Employed Women Equalitarian Chapter
Leadership Columbus - Columbus Chamber of Commerce
Ohio Bureau of Employment Services
Ohio Department of Aging
Ohio House of Representatives
Ohio Injury Prevention Partnership
State Employment Relations Board
United States Access Board
United States Department of Justice
United States Department of Veterans Affairs
United States Environmental Protection Agency
United States Probation Office
Health Services
American Association of Spinal Cord Injury Nurses
American College of Nurse - Midwives Ohio
Association of Ohio Philanthropic Homes for the Aging
Berger Health

[Multiple Engagements]

Craig Hospital
National Council on Aging
National Rehabilitation Association
Ohio Counsel for Home Care
Ohio Hospital Association
Ohio Occupational Therapy Association
Ohio Rehabilitation Association
Ohio Rehabilitation Counseling Association
The Ohio State University Medical Center

[Multiple Engagements]

OhioHealth
SANOFI
St. Luke's Hospital
Susan Komen Foundation
Vendome Group
Environments for Aging

[Multiple Engagements]
Hospitality
Celebrity Cruises

[Multiple Engagements]

Hospitality Design Expo
Hospitality Sales & Marketing Association International - Ohio Chapter
Ohio Hotel and Lodging Association
Royal Caribbean International

[Multiple Engagements]

Sixth Star Entertainment and Marketing

[Multiple Engagements]
Housing & Real Estate
American Society of Interior Designers
Building Industry Association of Central Ohio

[Multiple Engagements]

Columbus Home and Garden Show
Columbus Realtors®

[Multiple Engagements]

Community Development Corporations Association of Greater Cincinnati
Custom Electronic Design and Installation Association
Decorative Plumbing and Hardware Association
Downsize Columbus
E3 Capital Partners
Empowered Homes
GreenHome Institute
Home Builders Association of Greater Grand Rapids
LeadingAge

[Multiple Engagements]

LeadingAge Ohio
Michigan Realtors®
National Association of Home Builders

[Multiple Engagements]

National Association of Realtors®

[Multiple Engagements]

National Association of the Remodeling Industry

[Multiple Engagements]

National Kitchen and Bath Association

[Multiple Engagements]

New Jersey Realtors®
New York Association of Realtors®
Ohio Community Development Corporation Association
Ohio Housing Finance Agency

[Multiple Engagements]

Pennsylvania Association of Realtors®
People Working Cooperatively
ProAging Sourcebook
Universal Design Coalition
Universal Design Summit

[Multiple Engagements]

Universal Design Today Conference
Insurance
Aflac North Dakota
Aflac South Dakota
Aflac West Territory
Ameritas
Association of Health Insurance Advisors
AXA Advisors
Colorado State Association of Health Underwriters
Columbus Association of Health Underwriters
Columbus Association of Insurance & Financial Advisors
Diversified Brokerage Specialists, Inc.
Eugene Cohen Insurance Agency
Financial Planning Association
Guardian Life

[Multiple Engagements]

International Disability Insurance Society
IRA Brokerage
Life Insurance Marketing and Research Association
MassMutual Financial Group

[Multiple Engagements]

MetLife
Million Dollar Round Table

[Multiple Engagements]

Munich American Reassurance
Mutual of Omaha
National Association of Health Underwriters
National Association of Insurance and Financial Advisors
National Association of Insurance and Financial Advisors - California
National Association of Insurance and Financial Advisors - Northwest Oregon
National Association of Insurance and Financial Advisors - San Antonio, TX
National Association of Insurance and Financial Advisors - South Dakota
North Carolina Association of Health Underwriters
Northwestern Mutual Financial Network
Phoenix Association of Health Underwriters
Progressive Insurance
Thrivent Financial for Lutherans
Tri-Chapter Sales Conference
Manufacturing
Classic Products, Inc.
Crane Group
Innovative Mattress Solutions
Moen

[Multiple Engagements]

Longaberger Company
Roho Group
Meetings and Events Industry
Alliance of Independent Meeting Professionals
American Society of Association Executives
Disability Training Alliance
Experience Columbus
Hubb
IMEX America
Meeting Professionals International World Education Congress
Meeting Professionals International - Michigan Chapter
Meeting Professionals International - Mid America Conference
Meeting Professionals International - Middle Pennsylvania Chapter
Meeting Professionals International - North Florida Chapter
Meeting Professionals International - Ohio Chapter
Meeting Professionals International - Philadelphia Chapter
Meeting Professionals International - Pittsburgh Chapter
MeetingsNet
National Diversity Council
National Speakers Association

[Multiple Engagements]

National Speakers Association - Ohio Chapter

[Multiple Engagements

Northstar Meetings Group Independent Planners Education Conference
Ohio Society of Association Executives

[Multiple Engagements]

Professional Convention Management Association

[Multiple Engagements]

Society of Government Meeting Professionals

[Multiple Engagements]
Private Speech Coaching
Archie Griffin
Julie Pesusich
Anna Williams
Retail and Corporate Services
Continental Office Furniture
Dealers Supply North, Inc.
Exhibit Pro
Hafele
LML Technologies
Made From Scratch
Optimum Print Solutions
Thomas W. Ruff & Company
Training Companies & Associations
Association for Talent Development - Columbus Chapter
Design Arts Seminars, Inc.

[Multiple Engagements]

Friesen, Kaye and Associates

[Multiple Engagements]
Utilities
American Electric Power

[Multiple Engagements]
Vacation Rental
Hoste
Vrbo

[Multiple Engagements]
Youth Organizations
Girl Scouts
Junior Professional Golf Association
Michigan FFA Association
Ohio FFA Association
Ohio Junior Horticulture Association

[Multiple Engagements]

Ohio State University Extension, 4-H Youth Development
Oklahoma FFA Association
Texas FFA Association
"Rosemarie recently presented to the Ohio Society of Association Executives' membership on the topic of "Accommodating People With Disabilities." Her presentation, which has to be transitioned from an in-person, face-to-face event to an online, virtual one was extremely captivating and highlighted countless obstacles that many meeting planners ignore when holding their events - some of them obvious and many not.
It was a pleasure for my team to work with Rosemarie, and she ensured that the participants in her learning session benefited from the engagement opportunities available through the online presentation medium. I would recommend her to others in the association industry and any other professional business sector."
Ohio Society of Association Executives
"We hired Rosemarie to speak at Northstar Meetings Group's Independent Planner Education Conference (IPEC) in January 2020. Her topic, 'Accommodating People with Disabilities at Meetings and Events' was highly-attended and extremely well-received.
The fact that she was presenting to 225 seasoned meeting planning professionals (both planners and suppliers/hoteliers) about a topic that is central and ever-changing in the hospitality industry made the presentation all the more relevant.
I, along with many other people that have been planning meetings for 15+ years, found Rosemarie's presentation eye-opening in terms of how we all need to do a much more comprehensive job of accommodating people with disabilities at our meetings/events.
Sharing her first-hand experience of what it is truly like to travel and attend meetings in a wheelchair was take-away information that I will be using (and staying abreast of) for the rest of my career.
On top of a stellar presentation, Rosemarie was a true pleasure to work with and I look forward to many more engagements with her!"