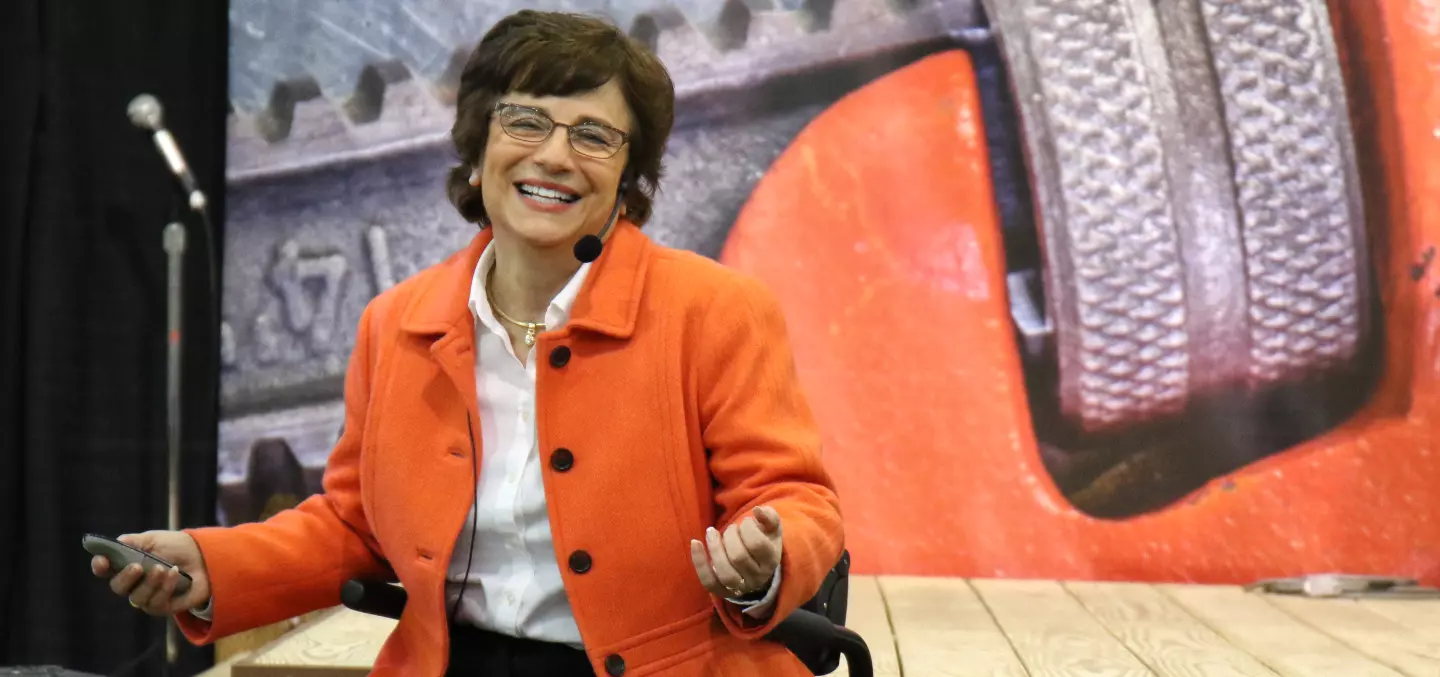 Pre-Program Questionnaire for Rosemarie's Presentation
Please send us any information that will increase Rosemarie's understanding of your company or organization, products, people and problems. This will help Rosemarie create a customized presentation that fits your specific needs.
Download, fill out and forward the Pre-Program Questionnaire to Rosemarie
Pre-Program Checklist for Rosemarie's Presentation
The purpose of this checklist is to provide you with a summary of things to do that will assist us greatly in presenting the very best program possible for your group. Please review it carefully! We appreciate your attention to detail. If you have any questions, please call 614-471-6100 or email [email protected]
RosemarieSpeaks.com.
A - Staging and Ramping
Platform / Stage
With groups of 50 or more, Rosemarie is more visible on a raised platform/stage so everyone, including those in the back row, can see and enjoy her presentation.
Minimum stage size is 6 feet x 12 feet (1.8288 meters x 3.6576 meters)
Preferred stage size is 12 feet by 24 feet (3.6576 meters x 7.3152 meters)
Do not position the center of the stage in front of the screen. Position the screen on the left side (from the audience's view). Rosemarie speaks from center stage and does not want to block the view of the visuals.
Realize that as the stage gets higher, the ramp will need to be longer in order for Rosemarie to wheel herself on stage. Lighting should be positioned on the center of the stage, where Rosemarie will be speaking, and off the screen.
To assist Rosemarie to see the front, sides and back edges of the stage, please outline the floor of the stage in a brightly colored tape (white, yellow, orange, pink) that contrasts with the color of the stage. This will help prevent her from rolling off any of the edges of the stage while she is speaking.
Stages and ramps can be obtained from the facility where the event is being held, or event planning companies can be contacted to rent a ramp and stage.
Recommended Stage Heights:
| Number of People in the Audience | Stage Height |
| --- | --- |
| 50 - 75 people | 12" |
| 75 - 200 people | 24" to 30" |
| 200 - 800 people | 36" |
| 800 - 1,500 people | 48" |
Ramp or Lift
Provide a 3 foot wide ramp to the stage so Rosemarie can roll up and down independently in her wheelchair. For each inch of stage elevation, there needs to be at least one foot of ramp length. For example:
12" high stage requires 12 feet of ramp length
18" high stage requires 18 feet of ramp length
36" high stage requires 36 feet of ramp length
It is recommended that there be curbs/edging, of at least 1/2" high, running along each side of the ramp, so Rosemarie doesn't roll off the edge of the ramp.
In some situations, there is not enough room for a ramp to be built to follow these guidelines. An alternative is to provide a lift on the side or back of the stage.
Lectern
Rosemarie does not speak from behind a lectern. If it is necessary for a lectern to be on the stage for other presenters, please have it set to the back or the side of the stage during Rosemarie's presentation.
Head Table
If the head table is on the stage, please have it set far enough back so Rosemarie can roll around in front of the table. Please have the people at the head table move to reserved seats in the audience so they can also enjoy the presentation.
B - Audio-Visual
Laptop Computer
Rosemarie will be using her own laptop computer ONLY when she is speaking in the Columbus, OH area. She typically does NOT bring her laptop computer with her on airplanes. She will need the client to provide a laptop computer and a remote control so she can change the slides. She will bring two USB flash drives with her PowerPoint program and/or she can send the PowerPoint to the client in advance.
Microphone
Rosemarie prefers to use a wireless lavaliere (clip on, hands free) microphone. This type of microphone clips to her jacket. This enables her to move around freely. Her second choice is a cordless hand held microphone.
Screen Size
So the audience will be able to see the slides, the following screen sizes are recommended. In large venues, there will be a need for two screens in the front corners of the stage area.
| Audience Size | Screen Size |
| --- | --- |
| 50 - 60 | 6' x 6' |
| 60 - 150 | 8' x 8' |
| 150 - 200 | 10' x 10' |
| 200 - 250 | 9' x 12' |
| 250 - 500 | 10-1/2' x 14' |
| 500 - 700 | 12' x 16' |
| 700 - 1,000 | 15' x 20' |
| 1,000 - 2,000 | 18' x 24' |
Screen Positioning
If using front-screen projection, place the screen at the front corner (left or right). Avoid putting the screen in the center of the stage, and certainly do not put the screen behind the area on stage where Rosemarie will be speaking.
Monitor
Rosemarie would like the laptop screen positioned facing her on stage. It can be on the stage, or on a small table, at the same level as the stage. An alternative is to provide a separate monitor for her to view from the stage and place the laptop elsewhere in the room with the projector.
Remote Control
Rosemarie will need a remote control that she will use to advance the slides in her presentation.
Lighting
Keep the lights dimmed over the screens and the lights bright on the stage. Unscrew light bulbs if needed. Additional light trees may be needed to illuminate Rosemarie so those in the back of the room can see her.
Audio/Visual Aids
Rosemarie usually uses visuals for her presentations. If she is using visuals, she will need you to provide a laptop computer, remote control, LCD projector, screen and may also need cables and assistance to hook the laptop computer into your PA system or LCD projector to amplify music during her introduction.
Handouts
Rosemarie will usually provide your group a master copy of her handout. Have a copy available for each audience member as they enter, place it on the chair, at their table, put it in your conference binder, or let the audience know where they can download a copy.
Evaluation Survey
Rosemarie may bring with her, an evaluation survey for each member of the audience to complete. Make arrangements to collect these completed evaluations so that Rosemarie can take them with her when she leaves. Announce from the stage, before and after Rosemarie's presentation, that the audience should fill them out and turn them in.
C - Audience / Seating Arrangement
Keep the front row as close to the stage as is comfortable.
Do not overset the room. If you are planning on 200 people, set the room for 200 (or fewer), not 250. It is better to have every seat taken than large empty spots throughout the audience and an empty front row.
If the room is rectangular, set the stage area in the middle of the long wall not on the short end. It is better to have an audience wide than deep.
Do not use a center aisle (prime viewing space). Use two smaller aisles on either side of the center.
Stagger the chairs. Don't put one chair directly behind the other. If you stagger each row, audience members won't have someone's head right in front of them to block the view.
Use image magnification where appropriate (ie, projection screens) if Rosemarie is speaking to a large audience.
D - Post-Program Needs
Book Signing Table and Assistant
After the presentation Rosemarie may go to the back of the room to meet with participants, sign copies of her books, and sell books. Provide a table in the back of the room, a chair, and an assistant from your organization to help her with sales.
E- Transportation / Lodging
Hotel Arrangements
Hotel room reservations (wheelchair accessible and non-smoking) are to be secured by you or Rosemarie, guaranteed for late arrival, and should be billed directly to your organization. If it is agreed that you are to secure hotel room reservations on behalf of Rosemarie, the following room accommodations are required, and must be confirmed with the hotel prior to Rosemarie's arrival:
32" minimum door opening width
Toilet area Grab Bars
Grab Bars in a roll-in / curbless shower with shower bench and hand-held nozzle
Travel Arrangements
Rosemarie is responsible for arranging air travel arrangements, round-trip from Columbus, OH.
Ground Transportation
Please arrange ground transportation (to and from the airport) and let our office know who will be meeting Rosemarie or if she should take a cab or hotel shuttle. Rosemarie can transfer into any car or van without assistance.
---
Once you've checked off each of these items, you and Rosemarie can be assured that the details have been taken care of and everything will run smoothly. Now YOU can relax and let Rosemarie do the rest!
Downloads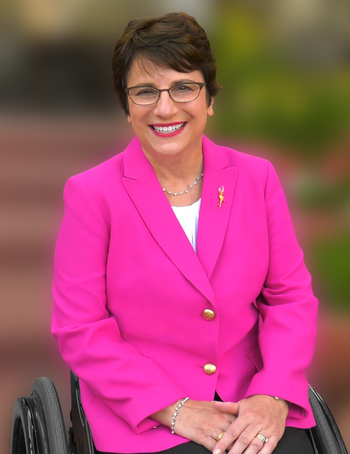 "Without a doubt, Rosemarie Rossetti is an irrefutable expert in universal design, especially as it relates to universal mobility! Her knowledge, expertise and insights have created a fountain of information and design planning that is incomparable. She turned an unfortunate accident into a wealth of information that almost everyone can benefit from. From her books, presentations, webinars and podcasts, there are virtually unlimited avenues for people to access her valuable information."
Co-Founder Silverspaces.com
"Rosemarie was one of the most organized speakers I have dealt with as an event planner. She had easy to follow documents that detailed her needs for before, during and after her presentation which made it a great experience in conversations with her and planning the event.
Her presentation on accommodating people with disabilities was engaging and one that members of MPI PGH will be talking about for a long time."