The Market You're Missing:People with Disabilities
Due to a variety of factors, ever increasing numbers of people with disabilities are traveling for work and/or pleasure. Consider these statistics:

Up to 1 in 4 (27 percent) adults in the United States have some type of disability.
[Source: Centers for Disease Control and Prevention, 2023]
Of those who have a disability and travel:
84%
cited a need for increased information on accessibility available prior to visiting, that determines where to visit.
70%
have taken at least one trip.
42%
have taken 3 or more trips.
travelers spend
per year on travel, having taken a total of
59%
of adults have taken a trip that includes a stay in an accommodation. That's 23 million travelers took 68.7 million hotel-based trips.
[Source: Open Doors Organization Market Study 2020]
What has your marketing efforts done to capture your share of this untapped demographic?
Are your staff aware of the needs of the disabled traveler and confident that they can interact appropriately with them?
As a destination marketing organization disability inclusion expert, I'm here to help.
"Rosemarie contracted with our organization, Experience Columbus, to assist in launching the city's first accessibility guide in July 2022.
Rosemarie is a trailblazer and advocate in our community. We were proud to have her present our paid media efforts as an ambassador this past summer.
Working with her has been an incredible perk of my job and I have learned so much from her professionalism and kindness."
Having been paralyzed from the waist down with a spinal cord injury, my experience in a wheelchair has taught me about accessibility. I know what needs to be anticipated and arranged to accommodate people with various disabilities including limitations with mobility, cognition, sight, and hearing.
I am an expert in the Americans with Disabilities Act and other accessibility standards as well as universal design practices.
Accommodation Defined
There is a difference between accessible design and universal design. Accessible design is more than just code compliance. Its major emphasis is on usability. Good accessible design includes usability and equity as a goal. Thus, the end result is the optimization of the human experience.
Universal design goes above compliance with the Americans with Disabilities Act regulations, which are viewed as minimum standards. Universal design is a framework or philosophy benefitting people of all sizes, ages, and abilities. The people visiting your city!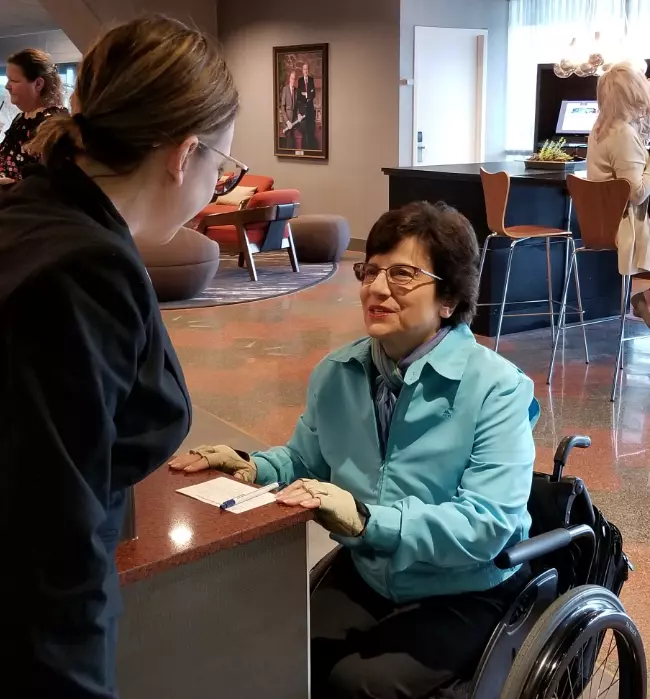 What are the Problems that Rossetti Solves?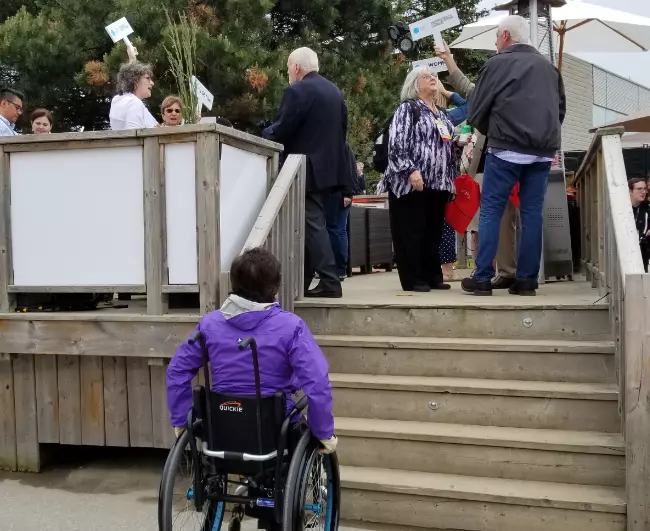 CHALLENGES related to ...
Exclusion
The unique needs of people with disabilities that are not taken into account when marketing a city.
Unfamiliarity
A lack of awareness about the needs of people with disabilities when planning and executing marketing campaigns.
Poor Outcomes
Failure to pre-plan leads to stress, costly makeshift solutions and unsatisfactory results. People with disabilities are not accommodated.
The Economic Benefits of Disability Inclusion
Increased Tourism Revenue
---
By actively promoting disability-inclusive travel, DMOs can attract a larger segment of the population that includes people with disabilities, their families, and friends.
This can result in increased tourism revenue as more individuals choose accessible destinations that cater to their needs.
Expansion of Customer Base
---
According to the World Health Organization, around 15% of the global population lives with a disability, representing a substantial consumer base.
By actively accommodating the needs of people with disabilities, DMOs can expand their customer base and attract visitors who might have otherwise been deterred by accessibility barriers.
Enhanced Reputation and Competitive Advantage
---
DMOs that prioritize disability inclusion demonstrate their commitment to accessibility and diversity.
Such organizations are likely to earn a positive reputation within the tourism industry and among travelers, including people with disabilities.
By positioning themselves as inclusive destinations, DMOs gain a competitive advantage over other locations that have not prioritized disability inclusion.
Longer Stays and Repeat Visits
---
By providing accessible facilities, services, and information, DMOs can encourage people with disabilities to extend their stay and explore more of what a destination has to offer.
Additionally, positive experiences can lead to repeat visits and word-of-mouth recommendations, attracting more visitors and fostering long-term tourism sustainability.
Job Creation and Accelerated Economic Development
---
Developing a disability-inclusive tourism sector requires investments in infrastructure, training, and services, leading to job creation and economic growth.
Accessible tourism initiatives can create employment opportunities in areas such as accessible transportation, accommodation, tour guiding, and specialized services, benefiting the local economy and communities.
Social Responsibility and Ethical Positioning
---
Embracing disability inclusion aligns with principles of social responsibility and ethical business practices.
DMOs that prioritize accessibility and inclusivity demonstrate a commitment to equal opportunities for all travelers, promoting a positive image and reinforcing their brand values.
What Can You Expect from Rossetti as your Disability Inclusion Consultant?
Create Appropriate Marketing Strategies
Review and suggest improvements for website accessibility and useability. Ensure compliance with WGAC standards. Make suggestions on how to improve the accessibility for people with low or no vision who use screen readers.
Work with your team to develop new content and review existing content to enhance attractiveness and engagement of potential disabled visitors. This content can include general website copy, blog posts, articles, podcasts, videos, social media posts, and interactive maps that showcase your destination's attractions, events, and experiences. Suggest photos/graphics to include more references to people with disabilities. Make suggestions for alt text for digital photos/graphics. Review and make improvements for language appropriateness.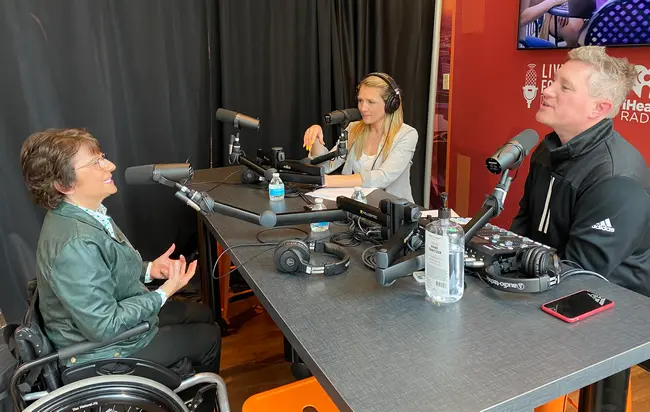 Review and suggest improvements to advertising campaigns that will raise awareness about your region as an accessible destination. This may include print ads, digital ads, television commercials, radio spots, and outdoor advertising. Suggest judicious use of photos and graphics depicting disabled individuals / groups successfully visiting your region.
Review and suggest improvements to content that is distributed various media outlets, travel journalists, and influencers to generate positive coverage about your region as an accessible destination.
Review and suggest improvements to visitor guides, brochures, and maps that provide detailed information about your region's destination, including recommended attractions, activities, and services. These materials are often available at visitor centers, hotels, travel agencies, and online platforms.
Assess and make recommendations of your region's various amenities. Suggest low and no cost changes to properties to make them more accessible. Can include transportation modalities, public restrooms, access to elevators, etc.
Staff and Community Training
Your staff and DMO membership will become comfortable using proper protocols when interacting with people with disabilities.
Knowing what to say or do (or NOT what to say or do), will instill confidence in your staff and lead to positive feedback from your region's guests.
Accessibility/Inclusion training can be delivered in person, virtually or hybrid to your:
DMO full-time and part-time staff
Board of Directors
DMO Membership
Certified Tourism Ambassadors
DMO Ambassador
Need a seasoned pro as video or audio talent for your accessibility marketing efforts?
Or, will you have a major event in your region and need guidance for exhibitors, vendors, attendees and facilities?
Rosemarie can serve as a liaison to consult, advise and direct staff and suggest adjustments. She will help avoid serious problems that people with disabilities may experience.
Why Rossetti is the Right Choice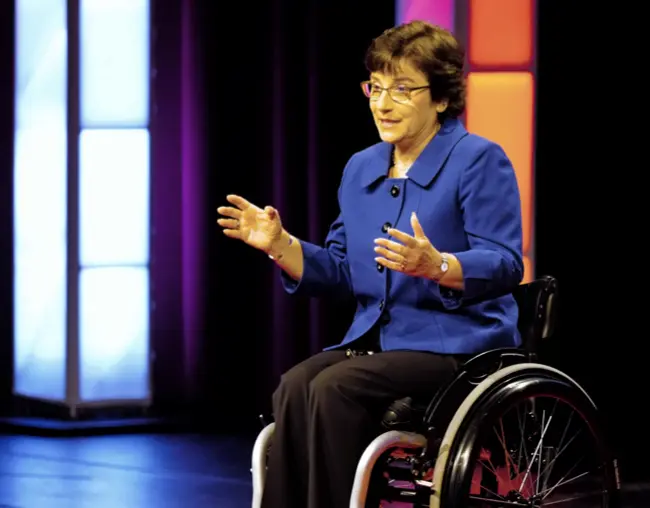 Knows from personal experience as a woman who has used a wheelchair since June 1998 how the built environment can either restrict or enable independence.
Since 1997 she has been an international speaker at various venues, knowing firsthand the potential problems and challenges people with disabilities face.
Has extensively traveled throughout North America to access built environments.
Delivered presentations in-person and virtually on the topic of disability inclusion.
Wrote on the topic of disability inclusion in publications.
Interviewed on podcasts on the topic of disability inclusion.
Is a master communicator and consummate professional.
In the know as a leading expert on the topics of disability inclusion, universal design, and accessible design.
Make an intentional choiceto take advantage of thisgrowing disability inclusionopportunity.
ContactRosemarie Rossetti, Ph.D.and put her on your team today!
Partial Client List
Alliance of Independent Meeting Professionals
American Society of Association Executives
Disability Training Alliance
Experience Columbus
Hubb
IMEX America
Loudoun Convention & Visitors Association
Meeting Professionals International World Education Congress
Meeting Professionals International - Michigan Chapter
Meeting Professionals International - Mid America Conference
Meeting Professionals International - Middle Pennsylvania Chapter
Meeting Professionals International - North Florida Chapter
Meeting Professionals International - Ohio Chapter
Meeting Professionals International - Philadelphia Chapter
Meeting Professionals International - Pittsburgh Chapter
MeetingsNet
National Diversity Council
Northstar Meetings Group Independent Planners Education Conference
Professional Convention Management Association [Multiple Engagements]
Society of Government Meeting Professionals [Multiple Engagements]
"Rosemarie's session at our meeting on being inclusive when planning meetings was a hit! In-person and virtual participants rated our speaker a 4.86 out of 5 which is outstanding!
Her willingness to tailor her program to our audience was so appreciated and gave the attendees usable takeaways. She is definitely an expert in this field and an asset to any event."
MPI North Florida Chapter
"I am continually impressed with Rosemarie's passion and insight around designing inclusive events. Rosemarie joined Hubb for a panel on inclusive hybrid event design and her depth of knowledge, powerful personal story, and masterful speaking blew our audience away. We had one of our highest net promoter scores and received glowing reviews from our audience.
Rosemarie can introduce new ideas and actionable strategies in a way that is easy to understand and connect with. I highly recommend to any meeting planner to invite Rosemarie to be a part of your event or to use her extensive knowledge on inclusive design thinking at your next meeting."